To go back to RecycleUS.com Home Page Click Here.

is a registered DBA of

a Colorado Corporation.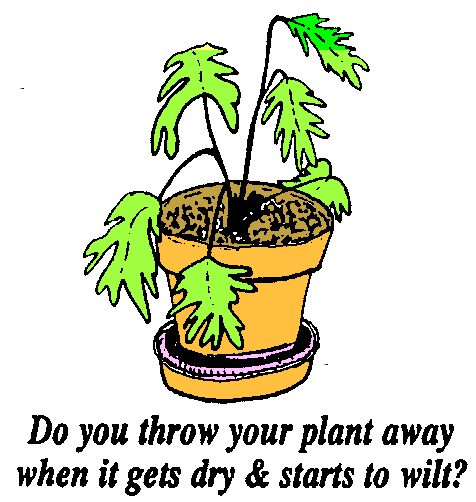 What about your Printer Cartridge?
---
We will recycle your Printer, Fax, Copier, etc. Cartridges to "like new".
The Benefits (Social & Economic) -- We compile each of these for every customer:

Waste Reduction -- Re-use your cartridge many - many times.
Jobs for the Disabled -- Distribution & Operations
Monetary Savings -- Your cost is 50% of suggested retail

The Services:

Ink Jet Recycling through RecycleUS.com Click Here
Laser Recycling through Ribbon Recyclers
Ribbon Recycling through Ribbon Recyclers
This is an easy way to cut costs now without sacrificing quality!
If you have questions or need specific information -Before you contact us about your printer or a cartridge, it will save you & us a lot of time if you specify the exact cartridge you need recycled. There are many printer manufacturers, thousands of printer types & new ones are introduced almost every day. Most of them use the same cartridges. We recycle about 90% of all of them. The best place to find what you need is in your printer operations manual, or you can look at your cartridges. Once you know the cartridge number then email us at cs@RecycleUS.com for fastest service, or call us at 800-477-3465-vm (we check voice mail frequently).

USA GSA Federal Government Award #: New Item Intro. Schedule. GS-14F-9716C

Denver, CO 80014-2223 USA -- (303) 377-4695 - (800) 477-3465
To print your ship label Click Here.
To go back to RecycleUS.com Home Page Click Here.
=============================================================================================================

Office: Denver, CO 80014-2223 USA (800) 477-3465 • (303) 377-4695
Click Here to print your ship label.
Thank you for your interest in our recycling services. Our company recycles ribbons, laser toners, ink jet cartridges and plain paper fax cartridges. If you want to buy inkjet or laser cartridges you will find the best pricing if you visit RecycleUS.com (CLICK HERE).
Governments along with industry are encouraging people to cut landfill waste by up to 50% through recycling. Americans use 300 million ribbons every year & 99% (600,000 toxic tons) are dumped into landfills. We know ribbon recycling is not a big step but it is an easy step. The benefits our customers enjoy are a rare combination:
• Saving money (More than 50% of the price of a new OEM cartridge),
• Reducing toxic waste (Up to 90% reduction in toxic cartridge waste) and
• Creating new jobs for the disabled.
Our clients include banks, distributors, manufacturers, computer companies, state governments, universities, cities, counties, hospitals, school districts, special districts and the United States Federal Government (GSA). We would like to add you to our customer list.
Last week our customers reduced cartridge toxic waste by over 1 ton.
Your biggest challenge will probably be changing behavior -- getting people to toss old cartridges into a "Used Cartridge" box rather than in the trash. We can help. We offer "Used Cartridge" signs for your business's collection boxes and "Stop Tossing your Cartridge" posters for bulletin boards. Just give us a call if you need the signs or posters.
So here's how you get started:
1. Take inventory of your printers and faxes -- noting the manufacturers name and model.
2. Check to make sure you have a replacement cartridge on hand for each printer. If you need replacements, just give us a call. In most cases, we can send you the replacement within 4 working hours.
3. If you don't need to order at this time, copy and cut out your Cartridge Recycling Return Label Click Here and file it for later use.
4. If you have old cartridges on hand, send them to us using your Cartridge Recycling Return Label and we will return your recycled cartridges in 5 to 10 days.
5. Any time you wish to see a report of the benefits you have attained from using our services; i.e., the amount of money your efforts saved, the amount of toxic waste you eliminated and the number of disabled people for whom you provided jobs. (We have customers who demonstrate their social contribution by publishing these figures in their annual report.)
The next time you need laser toners, ribbons, ink jet, bubble jet & PP Fax cartridges please give us a shot. We do accept VISA, Master Card and IMPAC (USA-GSA). You will like our prices and our service. We now also recycle many XEROX cartridges too. We look forward to working with you.
PS: This is an easy way to cut costs now without sacrificing quality!

PSS: One million ink jet cartridges are thrown away each day. 5 out of 10 households have an ink jet printer. Recycle your ink jet cartridges with us!

Click Here & print the page that displays - to print your label.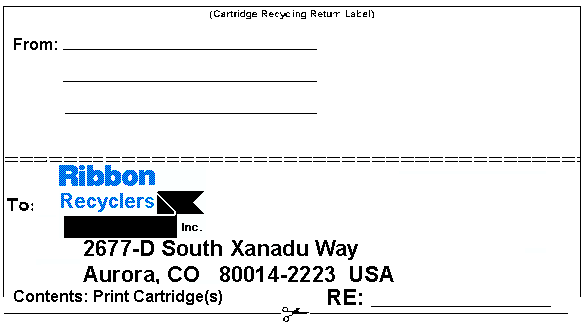 Click Here to return to RecycleUS.com Home Page.
---
ORDERING PROCEDURE: Call (303) 377-4695 / or / (800) 477-3465 or Click here to Email us.

SHIP RECYCLABLE ITEMS TO: Ribbon Recyclers, Inc., Denver, CO 80014-2223 - USA

Click Here for Cartridge Recycling Return Label

TURN AROUND TIME: Generally once we receive your cartridge, all recycled products can be shipped immediately via UPS ground from our recycled inventory in stock upon receipt of your order.

PACKAGING: Cartridges are individually bagged & when applicable, packaged in the same container received, thus further recycling the original packaging materials. Special packaging, labeling and individual packaging are available for a nominal charge.

SPECIFICATIONS: Ribbon Recyclers, Inc. recycles cartridges to meet or exceed OEM (Original Equipment Manufacturers) specifications

UN-RECYCLABLE CARTRIDGES: Only 3% of the cartridges we receive are not recyclable. All cartridges that are not recyclable can be sent back with an explanation of why they are not recyclable. New customers normally have more Un-Recyclable cartridges than experienced users because they are new to the process. Sometimes cartridges will not be recycled if we have experienced problems in the past with a particular cartridge or manufacturer. This will be noted when the cartridge is returned to you un-recycled. As a general policy, Ribbon Recyclers, Inc. will not recycle small ribbons with reinking systems.

SHIPPING CHARGES: Customer will bear the cost of shipping to our Colorado facility at customer's expense. Vendor will bear the cost of all recycled ribbon and ink jet orders which exceed $50.00 in products/services. For any order in which the invoice totals less than $50.00 for products/services, a shipping/handling charge will be added to the invoice. Special orders and expedited deliveries will be charged and added to the invoice.

PAYMENT TERMS: All orders must be payable with the order. We accept prepayment, Master Card and Visa.

Returns / Cancellations: All returned merchandise must be authorized with a RA (Return Authorization) number. This RA number must be displayed on the shipping label when returned. All returned orders are subject to a 20% restocking / cancellation charge. The customer is responsible for all shipping charges on returned orders that do not have an RA.

PRICE PROTECTION: Should we experience significant increase in cost of goods or unexpected labor factors we will honor all contracted customer's price schedules, and give 30 days advance notice in writing before any price adjustments take effect. Otherwise, in the absence of a fixed schedule all prices are subject to change without notice.

WARRANTY/GUARANTEE: Customer satisfaction is our guarantee. Products are warranted against defects in materials and workmanship for 90 days from date of purchase. Although we experience less than 1% performance rejection, any product which fails will be replaced, credited, or reimbursed at vendor's expense. Customer must return failed or unsatisfactory product to vendor for credit.

LIMITATIONS: Ribbon Recyclers will not be liable for special or consequential damages, whether arising from negligence or otherwise. Ribbon Recyclers is not affiliated with any OEM printer manufacturer.

RECYCLING PROCESS:

Ribbon Reinking - Ink is applied to the existing fabric. New proprietary electromagnetic machinery used along with improved inks work as a system to provide a uniform and even distribution of ink to the fabric. The entire ribbon is re-used with reinking.

Ribbon Reloading - Replacing the fabric in the ribbon cartridge or spool. This method has been used most frequently in ribbon recycling. The plastic cartridge/gears/spool are re-used, but the fabric (the part with the most toxins) is still thrown away. Make note of any ribbon you send that is torn or frayed, so we will know to reload it.

InkJet, DeskJet, BubbleJet, FaxJet - Cartridges are cleaned inside and out. They are then filled with the specified ink sealed, pressurized, tested and returned.

Laser Toner Recycling - Cartridges are completely disassembled and cleaned. New parts including the Drum are installed. The cartridge is tested and returned.

USA GSA Federal Government Award #: New Item Intro. Sched. GS-14F-9716C

To go back to RecycleUS.com Home Page Click Here.
---
A New GREEN Opportunity: Ribbon Recycling - By Errol Rowland, Ribbon Recyclers, Inc. © 1993-2001
A new environmentally friendly process is emerging in the recycling arena: recycling printer ribbons. The United States has a billion dollar ribbon market, and 99% of the ribbons are tossed into landfills: eighty thousand tons of ribbon toxins every year or 1,500 tons a week. Stop and think about it. Ribbons are everywhere: computers in industry, the hard copy receipt given with every retail purchase, internal reports for large organizations, the banking ATM machines. Local distributors now even have printers in their trucks'. Yes, even though the non-impact printers are being used more for finished product printing, the number of printers (dot matrix and impact) requiring ribbons continues to grow. Ribbon recycling can eliminate hundreds of thousands of tons of toxic waste. Ribbon recycling is more environmentally friendly than most recycling processes, because the ribbons are reused rather than melted down and recycled into a new product. Moreover, this opportunity is available now and for decades to come.
How are Ribbons Recycled?
The two methods of ribbon recycling include:
Re inking - Ink is applied to the existing fabric. New electromagnetic machinery used along with improved inks work as a system to provide a uniform and even distribution of ink to the fabric. The entire ribbon is re-used with re inking.
Reloading - Replacing the fabric in the ribbon cartridge or spool. This method has been used most frequently in ribbon recycling. The plastic cartridge/gears/spool are re-used, but the fabric (the part with the most toxins) is still thrown away.
Using both of these recycling methods are recommended to take full advantage of the cost savings and reduction in waste. Ribbon users should first reink the ribbon until the fabric needs to be replaced, then reload the ribbon and begin the re inking process again.
Why haven't I heard about ribbon recycling before?
Most Americans throw their ribbons away because they've never thought about recycling them and are unaware ribbon recycling services exist. According to a Gallup Poll, 93% of Americans are becoming environmentally conscious (Europeans see recycling as a way of life). Reynolds Aluminum Recycling Company reports 73% of all households in the US recycle regularly. It bothers people to throw their printer ribbons away. Why throw it away when all it needs is a little ink? After all, you don't throw a plant away when it wilts, you water it. The public is not aware of the ability to recycle their printer ribbons. New machines have been developed to recycle printer ribbons, and some recycling companies are relying on the disabled and senior citizens for operations and distribution. In these cases, people who have been relying on social programs are now making a contribution and finding self worth. Recycling ribbons presents a new opportunity, offering a number of economic and social benefits which are green all around.
Can my ribbons be recycled? - If it's fabric, 98% of the time the answer is YES!
Only fabric ribbons can be recycled. When you pick up a cartridge and inspect the ribbon, you can determine if it is fabric or plastic.Ribbons best suited for ribbon recycling are those from the OEM (original equipment manufacturer), including: Apple, Brother, DEC, Epson, Hewlett Packard, IBM, Okidata, Panasonic, etc. Some companies have been using generic ribbons to save money. However, generic ribbons (non OEM) cannot be recycled as often. The quality and engineering of generic ribbons in most cases are not up to the standards of the OEM ribbon. As a result the generic ribbon can neither be reinked nor reloaded as many times, because of substandard fabric, plastic cartridge and internal gears. It is recommended the users stay with the OEM ribbon for recycling purposes. It is common to reink an OEM ribbon many, many times, then reload it time and time again. Fabric ribbons are normally made of a nylon material. There are over 23,000 printer models requiring fabric ribbons, and 98% of them can be recycled. Fabric ribbons come in all shapes and sizes. The width of the fabric ranges from 3 of an inch to 12 inches. The length of fabric ranges from a few yards long to 150 yards long. Some are reel to reel spools. Most are held in a cartridge in a continuous loop that fan folds inside the cartridge. Most of the cartridges have gears within the cartridge and a thumb knob with which the user can manually advance the ribbon. A few types do not have gears but are open on one end of the cartridge relying on the printer to advance the ribbon. Wide line or towel ribbons are the ribbons 14 - 18 inches wide and are used on the mainframe printers. All of these fabric ribbons are candidates for recycling.
How many times can a ribbon be recycled?
The number of times a ribbon can be recycled varies among the types of ribbons. Some customers are still using the same ribbons bought years ago. It's not uncommon for users of recycled ribbons to reink one ribbon 10 to 40 times. A ribbon reused just 10 times means 9 weren't thrown away (90% reduction in ribbon waste). Five factors that can prolong the life of a ribbon are controlled by the user:
Use an original OEM ribbon; it is normally made of better materials.
Remove the ribbon from the printer when it first starts to fade, because a printer ribbon is like a sponge. While you can hammer a moist sponge all day long without harming it, a dry sponge will break up and fall apart. Similarly, when the user reinks the ribbon before it gets too dry, it will last much longer.
Don't move the print head position toward the platen as the print starts to fade. Ink provides necessary lubricants to the print head. Using a dry ribbon is like driving a car without oil and will have the same detrimental effect to the print head.
Store ribbons upside down. Gravity will pull the ink down into the ribbon. Then when you mount the ribbon on the printer, gravity again will redistribute the ink. This helps keep the ribbon fresh.
Select the recycling service that provides a uniform inking application, offers the top of the line process and ink, and institutes the highest quality assurance.
It should be noted, some ribbons have exceeded their life. Recycling experience suggests 3% of the fabric ribbons received for recycling have reached the end of their use and reuse. The plastic in these ribbons then is ready for the plastic recycling factory.
How does this ribbon recycling work?
Rather than tossing your ribbons into the trash, simply toss the ribbon into a used ribbon box, like dirty laundry. When the box is filled with ribbons, they are distributed to the ribbon recycling company. Some organizations can take advantage of the recycling company's pickup and delivery service; some can send the ribbons in; others can use their internal mail system in the distribution process. The ribbons are recycled to a like new condition, sealed in a poly-bag and returned like clean laundry.
What's the Ribbon Recycling Potential?
Today 30% of the laser cartridges are being recycled. Some organizations have mandated recycled laser cartridges be used in their operations. Bringing ribbon recycling up to the same 30% level as laser cartridges can attain the following results:
US Printer Ribbon Usage @ 30%

| | | | | |
| --- | --- | --- | --- | --- |
| | (000) | (000) | Tons | |
| Market Area | Mkt $ Rib | $ Savings | Waste Reduction | # Jobs Created |
| USA | $ 570,000 | $ 285,000 | 79,779 | 14,615 |
| Atlanta-Metro | 4,097 | 2,048 | 573 | 105 |
| Arizona | 5,985 | 2,993 | 838 | 153 |
| Chicago Metro | 18,334 | 9,167 | 2,566 | 470 |
| Dallas-Ft. Worth | 6,014 | 3,007 | 842 | 154 |
| Colorado | 7,410 | 3,705 | 1,037 | 190 |
| Miami-Metro | 6,691 | 3,346 | 936 | 172 |
Legend:
Market Area - Specific market area
Mkt $ Rib - (000) 30% of dollar amount spent for ribbons each year for this market area
$ Savings - (000) Savings assuming 30% market usage & selling the recycled ribbon back to the original user for 50% of the price of a new ribbon
Tons of Waste Reduction - Assuming each ribbon is only recycled only three times. Ribbons can actually be recycled 10 to 40 times. Thus, each of these amounts can be increased significantly
# Jobs Created - new jobs, many for disabled & seniors in administration, marketing, distribution, operations & customer service
What company can I use to recycle my ribbons?
Use caution in selecting your ribbon recycling company. You should look for a company whose only business is recycling ribbons. The company should have invested in the latest technology and highest quality of ink to satisfy your high standards. A "like new" recycled product is what you should expect. Successful ribbon recycling takes specialized skills in operations, because each ribbon has its own characteristics and must be evaluated by a technician as to how it is to be processed. Operational skills are well suited for disabled people. Quality customer service, support and administrative personnel are required to handle high volume, special requirements and distribution method best suited to your needs. You should also ask for the results of your recycling efforts. How much money have you saved? How much toxic waste have you eliminated? These are the results you can demand from the company recycling ribbons.
Conclusion
Like other areas of recycling, reusing one ribbon is not a big step but it is a right step. Consider the impact of everyone collectively recycling ribbons: the savings to society are enormous. But, just like anything worthwhile, this ribbon recycling doesn't happen by itself. All it requires is a recycling frame of mind to place the ribbons in the Used Ribbon box rather than in the trash can, and an experienced ribbon recycling company to ensure success. Recycling ribbons is green all around. The cost is a fraction of the price of a new ribbon, toxic waste is eliminated, and in some cases jobs are created for socially dependent people. It is a new win, win process. For more information, Ribbon Recyclers, Inc. can be contacted at (800) 477-3465 or (303) 377-4695. (USA GSA Federal Government Award #: New Item Intro. Sched. GS-14F-9716C and State of Colorado Award #: 9300YYY0 3 P )

To go back to RecycleUS.com Home Page Click Here.

All brand names and trademarks are the property of their respective holders. RecycleUS is NOT affiliated with any OEM. RecycleUS is a ® DBA of Ribbon Recyclers, Inc. © 1997-2004-All Rights Reserved. Copyright and Disclaimer