If you want to Buy Inkjets Now Click here. RecycleUS.com inkjet refill Service Order Form / Directions for when you send in empty inkjets.
1. Print this page to your printer. If you want to print it on one page Click Here & print the page that displays.
2. Cut out the FREE prepaid mailing label & with clear tape affix it to a USPS approved sturdy mailing container or envelope.
3. Complete the Order Form (refer to the Price List when completing the Order Form). Place your return address label with your name & physical address (UPS will not deliver to a PO Box). Print clearly or type all information on the form. Make sure you provide your email address, phone number & time convenient for us to call in case we need to contact you about your order. Enclose the cartridges, your payment ~ check or credit card and the completed Order Form into the mailing container or envelope you prepared in #2 above. If only one cartridge is being sent, a #10 envelope will work. Your cartridges will be returned via UPS or USPS within a few days of receipt. Remember we refill only YOUR cartridges - EX: If you want two cartridges sent back, you must send in two. (credit cards are preferred in case one of your cartridges can not be recycled, we won't charge you for it)
4. Seal the mailing container or envelope with tape to avoid opening during shipping.
5. Clearly label, print or type YOUR return physical address on the prepaid mailing label.
6. Drop the envelope into any US Mailbox.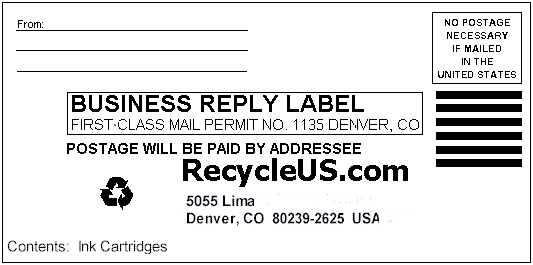 For best quality you can copy this label (right mouse click), paste it to your word processor, enlarge it & print it.
RecycleUS.com = The best Products, the best Prices & the best Service
Please fill out the following information to process your order. All information will be held in strict confidence.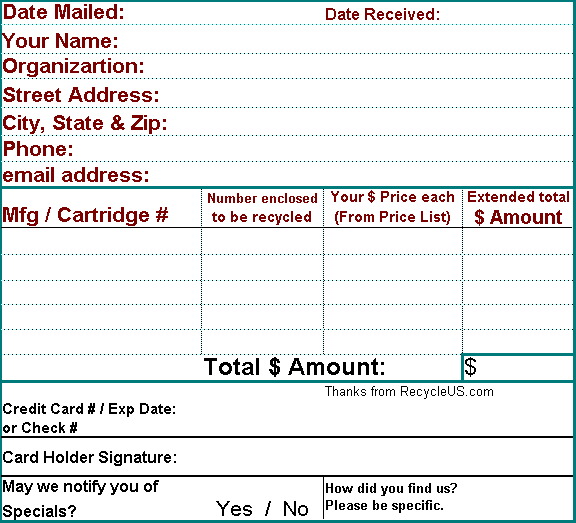 Note: Some cartridges cannot be recycled because of physical defects, or exhausted life span. If your pre-paid order cannot be serviced we will send you a e-mail credit voucher which can be used as payment for your next order.
Don't forget your payment with your order. For your convenience we accept: MasterCard, Visa, American Express, Discover, and Company or Personal checks.
All brand names and trademarks are the property of their respective holders. RecycleUS is NOT affiliated with any OEM. RecycleUS is a � DBA of Ribbon Recyclers, Inc. � 1997-2004-All Rights Reserved. Copyright and Disclaimer